At Home Personal Care is your #1 source in the area for non-medical in-home caregiving services. We understand that better care means better quality of life, which is why we tailor our services to meet the unique needs of your senior loved one. From assistance with everyday tasks to complex care, we are here for them – in their own homes and on their own terms.
1) Activities of Daily Living (ADL's)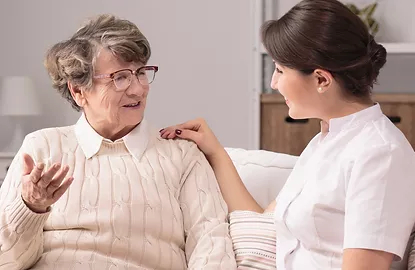 Activities of Daily Living (ADL's) are the things we normally do in daily living, including any daily activity we perform for self-care. When your loved one has difficulty performing these tasks on their own due to age, physical limitations, an injury, or medical condition, our trained Caregivers are there to assist. We understand it is important for your loved one to maintain their dignity and privacy within their own home, while performing these intimate functions.
We offer support services for just a few hours a day or 7 days a week. During our free initial assessment, our Case Managers will determine the level of care your loved one needs, and develop a plan specifically for them.
Some examples of Activities of Daily Living are:
Dressing
Showering and Bathing
Incontinence care
Eating assistance
Meal preparation
Walking and mobility support
Grooming
Oral care​
Our Caregivers can also assist with:
​Transportation
Pick up prescriptions
Light housekeeping
Laundry
Doctor's appointments
Medication reminders
Playing games
Companionship
Fall prevention
Home safety checks
Household organization
Shopping
2) Alzheimer's Care
As many as 6 million Americans are living with Alzheimer's disease and related dementia. This number is expected to reach nearly 20 million in the next 5 decades.
At Home Personal Care understands the special needs of those living with Alzheimer's disease and dementia. We understand that the best place for someone living with this disease is at home within their familiar surroundings. We also understand the emotional stress families undergo when a loved one experiences memory loss and changes in behavior.
Here are 10 signs of Alzheimer's:​​
Memory loss that disrupts daily life
Challenges in planning or solving problems
Difficulty completing familiar tasks at home, at work or at leisure
Confusion with time or place
Trouble understanding visual images and spatial relationships
New problems with words in speaking or writing
Misplacing things and losing the ability to retrace steps
Decreased or poor judgement
Withdrawal from work or social activities
Changes in mood and personality
We provide our Caregivers the latest in education and training so you can be sure your loved one is in the care of a trusted, qualified professional. We have Caregivers that are specially trained in Alzheimer's disease and Dementia. They can provide:
Companionship to overcome depression
Help advance nutrition with the proper diet
Provide interaction in order to stimulate mental functions
Aid in the safety and well being of your loved one
Monitor changes in behavior
Live-in assistance, 365 days a year
3) Parkinson's Care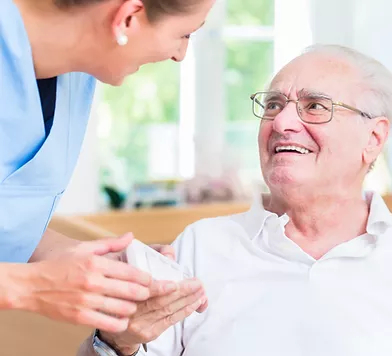 Parkinson's disease is a progressive disorder of the central nervous system which affects more than 1.5 million people in the United States. Because Parkinson's disease is a progressive illness, symptoms slowly get worse over time.
Parkinson's disease can cause several different symptoms. The specific group of symptoms that an individual experiences varies from person to person.​​
Some of the most common symptoms of Parkinson's disease are:
tremor of the hands, arms, legs, jaw and face
rigidity of stiffness of the limbs and trunk
slowness of movement
postural instability or impaired balance and coordination
At Home Personal Care helps to make life at home easier for your loved one living with Parkinson's disease. As your loved one loses the ability to control their movements, their ability to perform certain tasks becomes more difficult. Our specially trained Caregivers are there to assist and extend the quality of life, even as symptoms progress.
We have Caregivers who are specially trained to assist patients living with Parkinson's disease. They can assist with:
Companionship and support
Nutritional meal preparation
Mobility support
Transportation and shopping
Personal hygiene needs
Medication reminders
Incontinence care
Escort to doctor appointments
4) Medication Management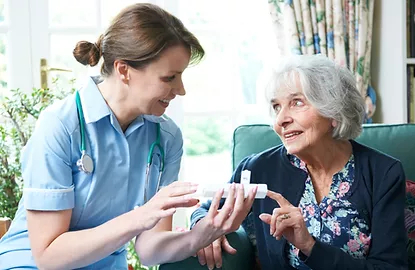 Our caregivers are trained to provide medication management, which can provide a sense of relief for the family members. The management of our client's medications, that are prescribed by the physician and when taken correctly as prescribed, supports the healing of the patient. Knowledge of the patient's medication and medication regimen at home provides a key element to the physician's care of the patient.
Our caregivers are not allowed to administer the medication, but they are trained to ensure that the client is achieving safe self-administration. Some benefits of having a caregiver to oversee that your loved one is staying on track with their medication regime are listed below:
Decrease drug interactions, adverse effects and non-compliance
Client and/or caregiver will understand the medication administration as ordered
Assess for adequate social and community support for medication compliance
Educate the client and the clients family on proper dosage, frequency and side effects
Evaluate therapeutic response to medication(s)
Assess the effectiveness of pain management
Assist in developing medication schedule/process to enhance compliance
5) Respite Care
For many, the challenges of caring for a loved one are part of daily life. Caregiving is a demanding, difficult job and no one is equipped to do it alone. Getting help is essential for your health, and your resilience is critical for your loved one. Seeking support and maintaining one's own health are key to managing the caregiving years. Using respite care before you become exhausted, isolated, or overwhelmed is ideal, but just anticipating regular relief can become a lifesaver.
Respite care provides short term breaks that relieve stress, restore energy, and promote balance in your life. Working with family members or friends may be difficult, however At Home Personal Care will help provide you with the many respite care options we provide.
Planning starts with analyzing needs…both yours and your loved one's. Keep track of your daily activities with your loved one and then make a list of the areas and times when you most need help. Identifying your loved one's requirements, abilities, and preferences will also help determine the right plan for you.
Our Caregivers can provide respite care for as little as 1 hour to as many as 24 hours per day to provide you with the rest you need.
6) Post Surgical Support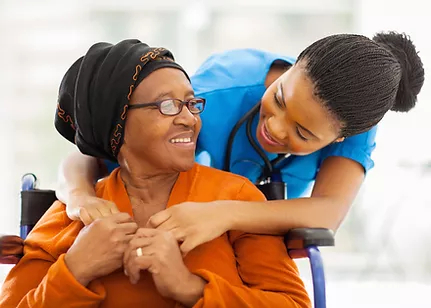 Recovering from a surgical procedure can be challenging. At times your loved one may feel frustrated, discouraged, and even feel defeated. They may have trouble navigating the stairs, standing long enough to prepare a meal, doing a load of laundry, or have trouble with showering.
While needing help is a certainty, you may not know exactly how much help will be needed until after your loved one is home. It may be just a few weeks, a month, or assistance may be needed permanently.
At Home Personal Care's main goal is to provide your loved one the help they need after recovery from a surgical procedure. Our Care Managers can perform consultations within the hospital in order to coordinate care before the day of discharge.
Our Caregivers can help with:
Preparing meals
Laundry
Running errands
Keeping the home environment safe
Monitoring progress
Help with exercises
Showering assistance
Mobility support
Companionship during recovery
Medication reminders
7) Stroke Support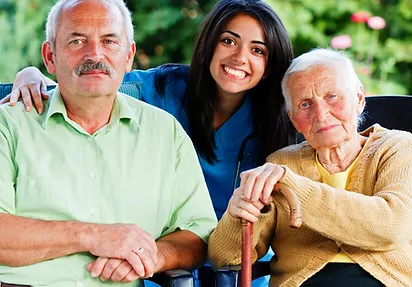 According to the National Stroke Association, every year over 750,000 Americans experience a stroke. Did you know that an individual who has had a stroke is almost 15% more likely to have a second stroke within one year of the first incident? And within five years of a stroke, over 24% of women and 42% of men will have a second?
Learn what it takes to stay stroke free!
National Stroke Association recommends these simple lifestyle changes to greatly reduce your chance of having a recurring stroke:
Control your blood pressure
Find out if you have atrial fibrillation (an irregular heartbeat which allows blood to pool in the heart and cause blood clots)
Quit smoking
Limit alcohol
Monitor your cholesterol levels
Manage your diabetes
Exercise
Eat foods low in sodium and fat
Monitor circulation problems with the help of your doctor
Follow doctor's orders
At Home Personal Care is here to help provide a supportive home environment for your loved one after experiencing a stroke. Our Caregivers understand the physical and emotional needs of a stroke survivor. Providing one-on-one continuous assistance in the days following discharge from hospitalization is crucial.
At Home Personal Care employs Caregivers with backgrounds and experience in caring for a stroke survivor. They can assist with:
Companionship and emotional support
Continual observation
Recognizing stroke symptoms
Personal care needs
Mobility support
Monitoring symptoms
Eliminate depression and boredom
Help to practice speech exercises
Transportation needs
8) Cancer Support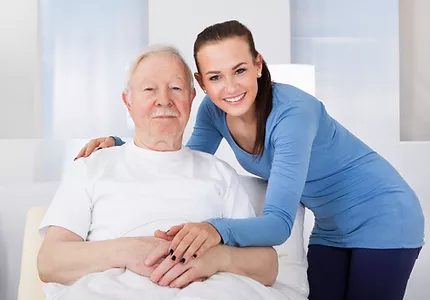 Our agency can be very helpful to those affected by Cancer. Our caregivers can help relieve the burden on family members, by having a caregiver come to your home, and provide the necessary services that are required to keep you comfortable. Our licensed Administrators can assist with your physicians plan of care, and ensure that you are receiving supportive care, and emotional support. Our caregivers will also work with physical therapist that you may have within your home, by assisting you to regain the use of impaired or weakened muscles, improve the range of motion in joints and learn to use any equipment needed for daily activities.
With our cancer support services, we can also assist you with your daily tasks, like eating, bathing, dressing, and household routines. With the help of our caregivers, you can better handle personal care, such as getting in and out of bed, walking, bathing, and dressing. In addition, the caregivers can do light household tasks for you, like laundry, meals, housekeeping, and shopping. These services are done to help maintain your house rather than give health care.
A sense of independence is vital to seniors. We understand and respect that, and it's that understanding that forms the foundation of everything we do. We only hire competent, completely vetted and researched caregivers, thoroughly checking their references. Plus, we perform thorough criminal background checks and caregiver driving record checks, as well as provide them with ongoing training.

This is why you can place your trust in the caregivers at At Home Personal Care. We welcome your questions at any time, so please give us a call.
What We Do
Whether your senior loved one finds it challenging to live at home safely by themselves, or just needs assistance with a few tasks such as housekeeping or meal prep, we can lend a helping hand.
Our caregivers help with all non-medical duties, such as:
Activities of daily living (ADLs):

Bathing

Feeding

Dressing

Grooming

Incontinence care

Mobility: ambulation and transfers

Toileting

Meal preparation

Light housekeeping

Transportation to doctors

Errands and grocery shopping

Medication reminders

Companionship and supervision

Morning wakeup

Assistance with long-term care insurance claims
Think of it this way, we will do virtually anything that you as a family member would do if you were available! We also provide respite care, which gives you a much-needed break on a regular basis as the primary family caregiver. Caregiver burnout is very real. Give yourself a break every once in a while and let us handle things.

We help seniors live independently with dignity, safety, and security in the comfort of their own homes for as long as they can, based on trustworthy advice, care, and advocacy.

At Home Personal Care connects your loved one with the best senior care provider that can meet all their unique needs. We want your senior to thrive in their home environment while remaining safe, happy, and healthy!